Streamio SECURE is a smart feature that allows you to restrict viewing of your video content to one or several IP addresses. This is particularly useful for those of you who want to publish video content on a corporate intranet and need  to prevent unauthorized access and viewing of your videos.
Streamio SECURE is activated on an account level, i.e you will have to create a separate, secure account where you upload and publish videos you want to protect.
Secure accounts work just like other accounts on Streamio – you can start right away by creating a FREE secure account and, whenever it is convenient for you, upgrade to a suitable subscription plan of your choice.
Create a SECURE account
Creating a SECURE account is really simple:
1) Click on your account name on the top left of the navigation menu select "Create Account".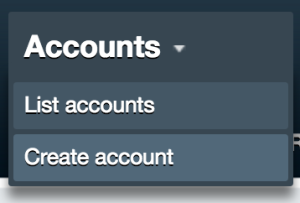 2) Give your new account a Title and make sure you mark the checkbox  "Make this account SECURE".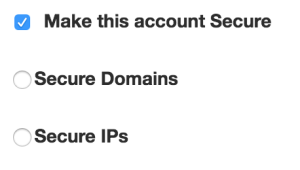 3) Select if your account should be Secured by domains or Secured by IP and click "Create Account". If you need more information follow the link below to the FAQ "Secure streaming with IP or domain restrictions"
Then, click on the "Create Account"-button.

As you will notice, your secure account will show a small icon next to the account name as a reminder that all videos you upload and publish through this account will only be accessible and viewable from the specific IP addresses you have approved/specified.