Switch between multiple accounts
If you're registered as a user on multiple accounts, you can easily switch between your accounts. Click the account name in the upper-left corner of the menu and select from the list: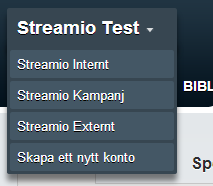 Jump to another account or create a new one
Create new account
From the menu, you can choose to create a new account. Enter the account name and possibly if you want it to be a secure account, that is, an account that can be locked to domain or to IP number and intranet. See more at
Streamio Secure.

It's easy to create new accounts. Please note that it is not subsequently allowed to indicate that the account should be "secure". This must be done in the creation phase.