Get started with Live-streaming.
When Live streaming is activated, you'll find the tab "Live!" in your Streamio library.
Activate stream:
This is where you start the live broadcast. The stream could be on all the time if you like. For example, some clients use this internally and display a video window on their intranet, always ready to show a new live event. With the stream active, starting a new live stream is quick; it is automatically enabled as soon as the video is transmitted, so it could be a question of just whipping up a mobile phone and starting filming.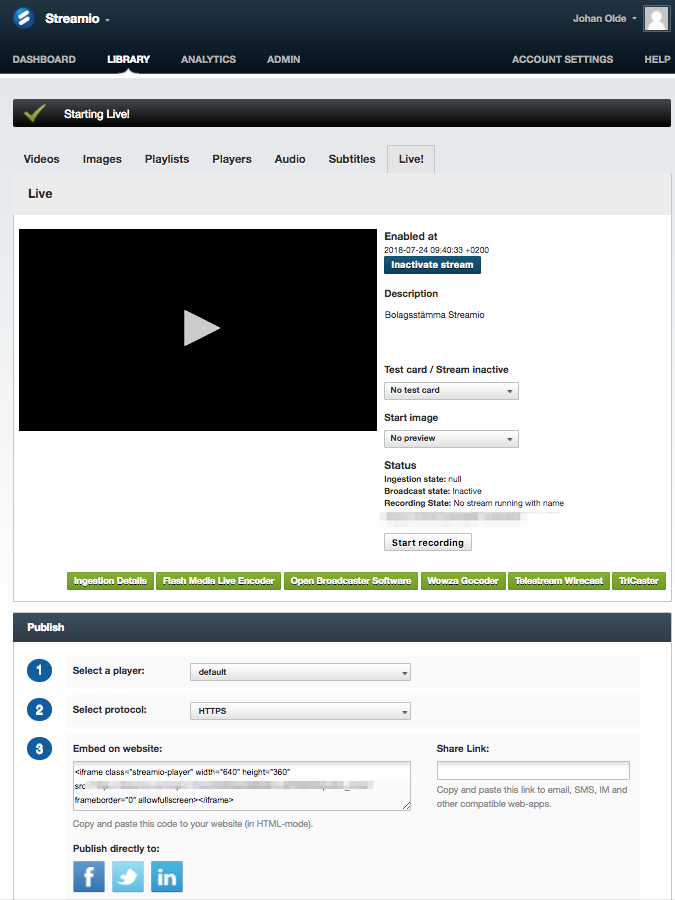 Description:
This is a field for a text description of the live stream. Please activate it in the player configuration.
Testcard / Stream inactive
Choose a picture to be shown when the stream is inactive. This picture is shown instead of the player. When the stream is activated, the player is displayed instead. As an example, this function could be used to give information on when the next broadcast starts!
Start image
The difference between the Start image and the Testcard is that the former is a picture displayed by the video player. Without a Testcard, the player shows when someone visits a page with the player embedded or follows the "Share link."
In the player, the Start image shows if no video streams. The disadvantage of using this method is that an error message displays when there is no stream present: "Cannot load M3U8:404 Not found". An exclamation mark also replaces the play button in the center of the player.
Status
Below the Status heading, the status for the active live stream is shown.
Ingestion state
It shows "Null" if no stream is active. "Publish" while streaming and "Unpublish" if a stream stops.
Broadcast state
"Inactive" if no stream is active. "Active" while broadcasting or if the stream has stopped.
Recording State:
It shows "No stream running"  when there is no active recording. "Started" when the broadcast is active and recorded.
Start recording
When pushing the "Start recording"-button, the recording of the live stream is started. Videos appear under "Videos" in your Streamio account when recording and transfer are ready. The videos are chunked into pieces if there is a long recording.
Settings:
By clicking on the green buttons down below, you'll find instructions for some of the most common systems our clients use. Even if you use something else, you can likely find setting here to use; they are all pretty similar!
Ingestion details – Flash Media Live Encoder – Open Broadcaster Software – Wowza Godcoder – Telestream Wirecast – Tricaster
These buttons contain dynamic information with the details that are needed to start your stream for that system!
Other settings
The maximum bitrate that Streamio handles for live streams is 3000 kbps. For the stream to work well on different viewers' equipment (mobile phones, rural broadband, and so on), it's good to keep the stream's bitrate below this. Often a significantly lower setting is preferred to reach as many viewers as possible without hiccups.
Note that many settings also can be made in the player you choose for publishing the stream. For example, you can configure the player to autostart the stream or set a watermark ("channel logo" or similar). It is also possible to configure different players to report statistics to different Google Analytics accounts, which is excellent if a video is on more than one site!
If you have other needs, feel free to contact us at Rackfish. We provide live streams for large audiences all over the world. With our CDN, we can target the distribution for specific markets. We also handle live transcoding, ultra-low-latency (low delay from live to the viewer), and more. Just get in touch (chat below, mail or call our sales department at +46-8-42501818 to discuss your need or get inspired by solutions we've provided for other clients!