To use this feature, under Library and Videos, start by finding the video you want to generate a subtitle for. Below the movie, you will find the Subtitles button. Press it to access the auto-subtitle features.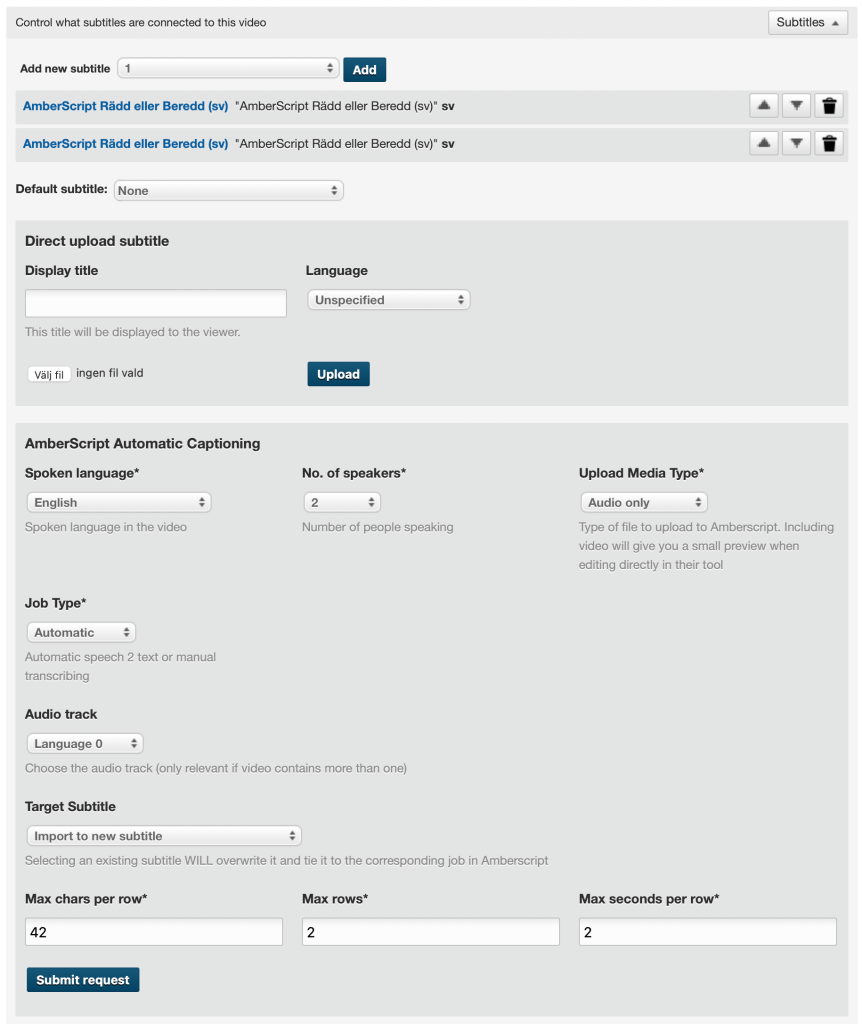 Under the heading Amberscript Automatic Captioning fill in the following:
Spoken language – select the language spoken in the video. You cannot select multiple languages for a video.
No. of speakers – choose how many different people speak in the movie.
Upload Media Type – Amberscript only needs the audio from the video to generate a subtitle. Still, if you want, you can also include the image part of the video if you want to be able to see a visual help when editing in their tools.
Job Type – Here you can select Automatic if you want the subtitle to be machine-interpreted and created. If you want a person to create the subtitle instead, select Manual. Note that manual captioning is both slower and more costly to produce.
Turnaround Time – If you have selected Manual Job Type, you will have to choose between Standard (5 business days) or Quick (2 business days). Note that Quick turnaround time is more costly.
Audio Track – If your video contains multiple audio tracks, you can specify here which of these audio tracks to subtitle.
Target Subtitle – Select Import to new subtitle if you want a brand new text file with the same name as the video. If you want to overwrite an existing subtitle instead, you can select it from the list.
Max chars per row – 42 is standard and adapted for WCAG 2.1. Change only if necessary.
Max rows – 2 is standard and adapted for WCAG 2.1. Change only if necessary.
Max seconds per row – 3.5 is standard. Change only if necessary.
Finally, tap Submit request to start the job at Amberscript.
When the text is finished, it will appear in the Library under Subtitles. Note that it takes different lengths of time for the text to finish depending on your choices, ranging from a few minutes up to 5 business days if it is a manual subtitle.