You can at any time add or delete individual transcodings for any given video in your Video Library.
To add an individual transcoding, follow these simple steps::
1) Go to your Video Library.
2) Select a video by clicking on the Title.
When you arrive to the video page, click on the "Advanced"-button on the lower right side of the section: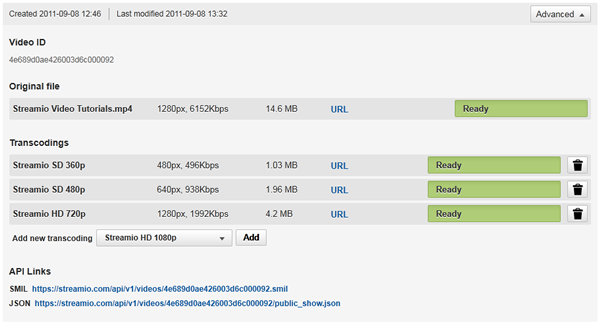 In the "Advanced" section, you will see which transcodings have been created for a particular video.
To add a new transcoding, simple select en Encoding Profile in the menu and click "Add". Our Encoding Platform will immediately begin creating the transcoding you have requested.  You can follow the Encoding process in the Progress Bar next to the new Encoding Profile.
Please note that if you can't find an Encoding Profile that meet your specific needs, you can create your own by going to your "ACCOUNT SETTINGS" and then on to the "Encoding Settings" section.