When you upload a video to your library, it will be recoded into one or more different video streams that will allow you to view your video optimally in different browsers and mobile devices.
When uploading, you are given the option to choose which encoding preferences you have, i.e. which encoding settings you want to apply to the movie you upload: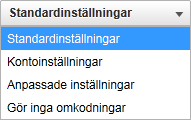 When uploading, you can choose from four different video transcoding options:
Default settings
Streamio's conding engines will analyze the movie you upload and then recode it to the video stream or streams required for optimal playback quality.
Account settings
Streamio's encoding engines will recode the movie to the video streams you explicitly set in your encoding settings for your account.
Custom settings
Custom settings allow you to add one or more specific video streams for this specific video.
Don't recode
Your video will be uploaded to the library without re-encoding it.
If you are unsure which option to choose, we recommend that you select "Default Settings".