Under "USER SETTINGS", you are able to change your own personal settings for your account, including:
Contact Information
Change first and last name, email and/or phone number
Timezone
Change to the timezone of your choice
Languages
Change to the language of your choice
Password
Change your password
You can access your "USER SETTINGS" by clicking on your name in the upper right corner of the header: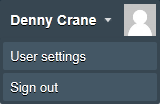 Please note that the Users Settings only applies to you personally and not the other users of your account. 
Want to make other edits? Here you can find all possible account settings.
Learn more about settings in Streamio here!