Live streaming has a new improved functionality for recordings. The default setting is now that all live streams in Streamio are recorded automatically. But what's better: Streamio's smart tags allow recordings to be published automatically to our playlists and channels!
Tags recordings in advance
By tagging recordings, you can automatically control publishing to Streamio's playlists and channels.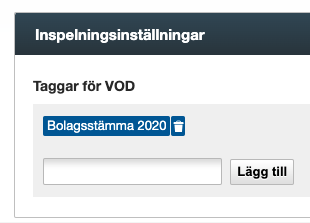 Next to the Auto-record setting in Streamio, you can give the (not yet recorded) live broadcast tags. When a live stream is stopped (if just briefly), the recording is saved, moved to the video library, and encoded to the correct format. If there are channels or playlists that use that tag, it will be published immediately!
Examples from conferences with seminars
A common use of Streamio live is to broadcast full days of events, such as conferences. A very easy way to do this is to create a channel for the event that you give a unique tag. Any videos you've already uploaded that are relevant are tagged with this new tag and pop up directly on the channel.
Then put the tag on the Live tab below the recording settings and leave "Auto-record" on. Below you turn on that you want to live-stream to the new play channel and turn off the ones you don't want to stream to.
Now the live stream will be visible on the event's channel, and there's an easy way to fill the channel with recorded content – for every new talk, speaker, or seminar – stop the live streaming quickly and resume immediately.
Recording pops up automatically in the right channel or channels
With the tagging of the recording, as soon as it is uploaded and encoded, it will be published in the correct channels (and playlists). This way, an event can live for one or more days in an ever-growing channel where the live stream is constantly complemented by recorded segments!
Best practice – record locally!
One thing we always remind our users about is to record locally, too, if you don't want to lose the content. Most systems do recordings well, and it has several advantages:
Recording can be done with higher quality
The recording does not have to pass the internet and a series of servers
The risk of interference, glitches, and at times low quality, decreases.
The risk of a failed recording is minimized – the local becomes a backup