Some of our customers have recently asked us if it is possible to change the size of the Play icon on our Standard Players? We have not implemented such a feature yet for several reasons (including making sure we won't mess up the clean admin interface), but what we have done instead is to implement a simple check-box in case you want to hide the Play Icon.
When you go to your Player library to create a new (or edit one of your existing) Video Players, you will now find this new checkbox in the "Controls"-section.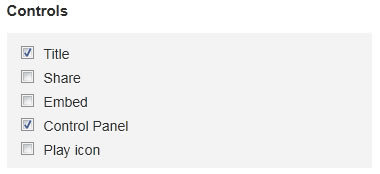 Please note that a viewer will always be able to click anywhere inside the player to view or pause a video, regardless if you activate or hide the Play Icon – they don't have to click on Play/Pause in the control panel.
We hope you will find this feature useful – if you have any questions, just beep us an e-mail.