Youtube has many flaws as a video platform, but it can be good social media so use Youtube as it is intended and get a real video platform. A dedicated video platform gives you all the tools you need and you avoid all the problems with GDPR, lost leads and problematic ownership that other solutions entail. Contact us at Streamio and we will help you move from Youtube.
Here are 6 key reasons why you shouldn't use Youtube as the main video platform for your business or organization:
1. Youtube is one of the world's largest social media
There are hundreds of hours of video uploaded to Youtube every minute https://fortunelords.com/youtube-statistics/. With the vast competition, the chances of anyone discovering your particular content are microscopical.
2. You don't know who's watching and where they're going
Youtube is owned by Google, one of the world's largest advertisers. They make money collecting your viewers' data and selling ads to them. This means that you don't know who saw your video, but Youtube for sure knows, and since it's an American company, it's GPDR problematic.
3. Why promote a US company on your website?
Youtube and Vimeo are two major players that offer free services as long as they are allowed to have their brands in the player on your page. It rarely looks professional. You should not promote Youtube and Vimeo for free on your website if you are a serious company or an organization in the public sector. Instead, use a provider that allows you to design your own video player to make it look stylish and professional.
4. Youtube is blocked in many countries and on some web pages
A common misunderstanding is that YouTube and the videos posted there are available worldwide. Youtube is blocked in several countries, including China – which for most companies is a massive market with over 1.4 billion people. Some videos may be blocked by Youtube themselves if they think your content is inappropriate or use copyrighted material – regardless of whether you have the right to use it or not.
If you want to avoid the annoying problem of visitors to your website not being able to see your videos, you should instead use a serious video platform that is available worldwide to all visitors.
5. Youtube leads your viewers to its platform
The only thing that Youtube cares about is that as many people as possible watch their ads. Everything on Youtube is optimized to maximize viewers to their site. For them, it doesn't matter if someone is watching your particular video. They might as well advertise and suggest your competitor's video!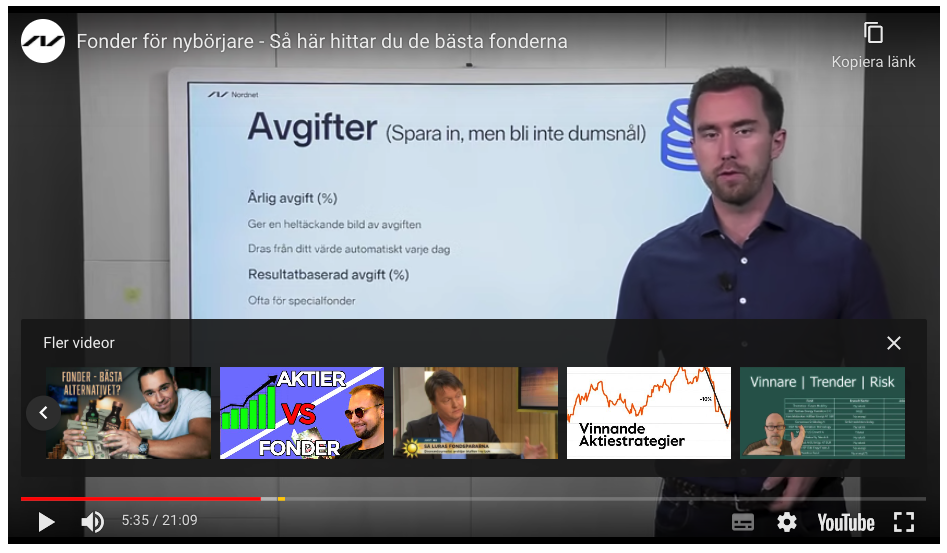 6. Who actually owns your video?
When you publish a video on Youtube, you are forced to accept Youtube's agreement which states that they and all other users of Youtube get joint ownership rights to your video.
"By providing Content to the Service, you grant to YouTube a worldwide, non-exclusive, royalty-free, transferable, sublicensable licence to use that Content (including to reproduce, distribute, modify, display and perform it) for the purpose of operating, promoting, and improving the Service."
"You also grant each other user of the Service a worldwide, non-exclusive, royalty-free licence to access your Content through the Service, and to use that Content (including to reproduce, distribute, modify, display, and perform it) only as enabled by a feature of the Service."
Should you want to retain ownership of the content you have put a lot of resources into producing, we recommend using another video platform instead of Youtube. In addition, you get to keep all the information about your viewers without it being shared with a US company and thus available to US authorities.
If you still want to use Youtube as a video platform, we give you some concrete tips for using Youtube correctly and three tips for better Youtube management.
Conclusion
Treat Youtube as the social media channel that it actually is. A place to publish some short teaser videos used to attract visitors to your website where they can read more and contact you. Youtube should not be considered a full-fledged video platform for serious companies and organizations. If you only use Youtube, you will miss out on many of the opportunities that exist with a real video platform where you can build your own play channels, own your content, see statistics on usage and comply with all laws concerning personal data and accessibility.
Stop leading your visitors away from your own website to Youtube. Instead, do the opposite and lead them from Youtube into your website. Start by getting a free trial account on Streamio and we will help you from there.