Big feature packed update
Streamio is continuously updated and often we release small improvements and new features – now we've released a giant update that really includes great news for all our customers – here's a rundown of the biggest improvements.
Improvements for accessible video
Sign language interpretation can now be solved by connecting the character-interpreted film with a film without character interpretation. This makes it easy for users to switch to the video they prefer to watch, and easily switch back if things went wrong. Read more about using sign language interpretation in our support article: How to create a sign language interpreted video.
Now it works to upload synthesized videos in Streamio where the user chooses between the synthesized sound and sound without audio interpretation. This function can also be used to have additional audio tracks such as different languages tracks. On our support site you can read more about: How synthesized video works in Streamio.
To facilitate the management of larger film volumes, we have improved the overview of films. The check boxes are clearer, we have gained more space by improving the placement of objects, without reducing the information. Finally, you can select all, uncheck all the videos or invert the choice that is made. If on a page with 25 movies where you want to copy 20, it is much faster to tick the five that are not going to invert the selection than the other way around.
Selected videos can be unpublished (they remain but cannot be played) or deleted completely. You can also copy several videos if you have access to different accounts. Along with the selection of tags and sorting, it's now easier than ever to manage large volumes of videos in Streamio.


A long-awaited feature upgrade is better management of Starting Images (in the video player before the movie is started) and Thumbnails (the image shown for example in the video library). We have long had the function of uploading an image to the image library that can be used as a starting image for those who want complete control. Now we have separate management of Starting Image and Thumbnails and made it possible to choose the exact time to pick out a starting image – with or without the system's help for automatic image selection.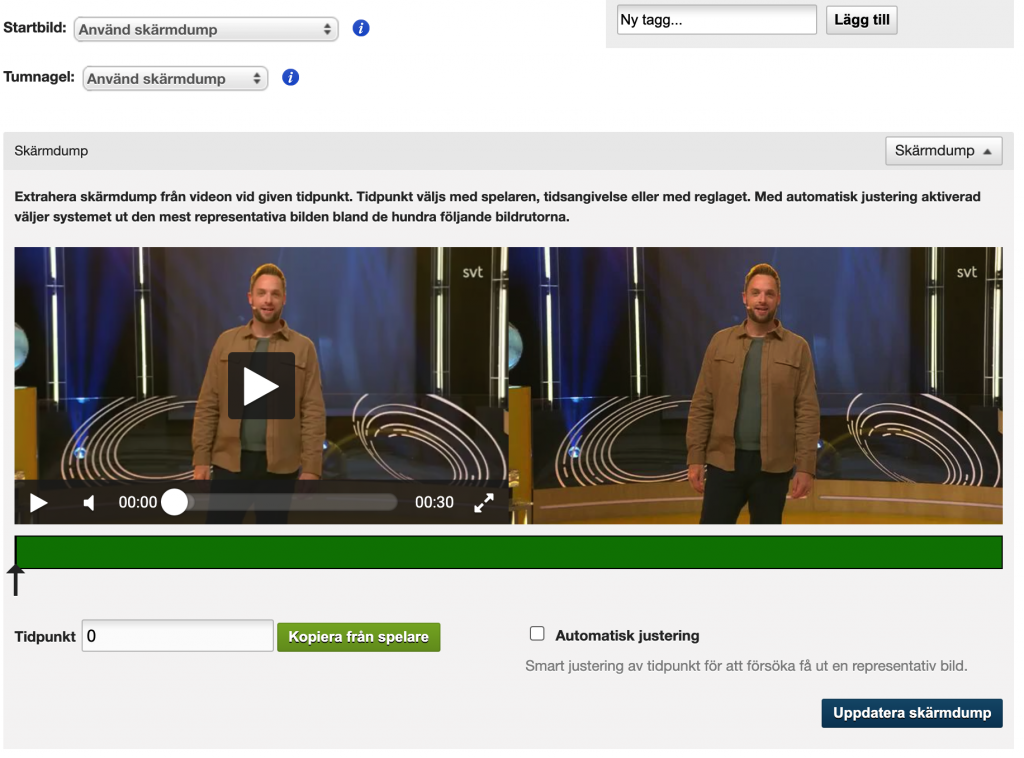 Another feature requested from customers is the ability to create new clips from a movie. Say you have recorded a long broadcast of some kind and want to pick out different parts of it for different audiences. It's now easy to do this by selecting the area of Streamio's trim tool and instead of regenerating the movie, give it a new name and save that clip as a new video in Streamio.
Our playlists can now, in addition to the classic and highly customizable archive players, be published directly into the regular Streamio video player – at the bottom of the playlist management there is both embed code and card link to the Streamio player with the playlist included.