We have some great news for you! We have now simplified and improved the way you can create and effectively manage multiple Streamio accounts.
To create/add a new Streamio account, all you have to do (if you are the registered account owner) is to click once on your account name in the upper-left hand corner of the main navigation menu and a small drop-down list will appear, as follows: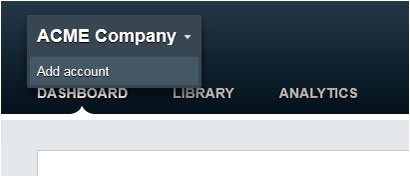 Click "Add Account" and a new window will appear, asking you to select a name for your new account.
When you have named your new account, just click "Create Account" – and you're done! You have now created/added a brand new Free Trial Account!
Now, when you are logged in at Streamio, you can easily select and switch between the accounts you manage (or have access to) by selecting the appropriate account in the upper-left hand corner of the main menu: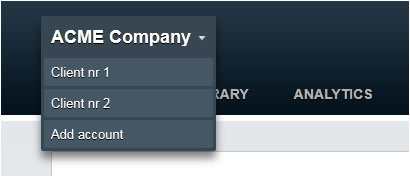 Creating separate Streamio accounts for all your clients (or sites or departments) opens up a whole range of neat possibilities for you and your clients:
Each one of your clients get their own individual account where their video content is uploaded, stored, published and managed.
Keeping track of which video content, player settings or encoding profiles you use for each respective client is a breeze. Each client/account can have their own library, their own set of players, encoding settings, add-on's, etc.
Keeping track of storage, traffic and video analytics is also a breeze – why not invite and grant your clients access to their respective account so they can check it out for themselves – or even upload and administrate content for themselves?
You can easily upgrade/downgrade each separate account whenever needed. Naturally, each individual paid account can be paid with its own credit card.
We sure hope you (and your clients) will love this new feature as much as we do!
As always, if you have any questions, just beep us an e-mail.