Accessibility for players of online video​
Streamio uses Radiant Media Player as the primary player for video that follows the standards of WCAG2 & WAI-ARIA
Accessibility is about making content available to everyone, regardless of functional variations. For video and audio, this may be to provide subtitles, visual recognition, text version (transcription) and sign language.
Much of what we come into contact with today are different public sector customers who will have new legal requirements in 2020.
Not just the public sector
Accessibility adjustment is not an issue that concerns only public organizations.
On the one hand, all companies that deliver to municipalities, county councils, government agencies and so on are affected. But even private companies need to make their content accessible to everyone.
It is partly a question of not excluding groups and, moreover, you do not want to miss part of the market you operate on. Some accessibility aspects are important for large groups. For example, subtitles are used in many contexts:
You may not know the language fluently and want the support of both listening and reading. Or you use subtitles when watching a movie in an environment where you can't have an adequate volume on the film. A third option is that the sound of the film at times is bad, or some actors talk unclear.
Better searchability, SEO
Another aspect that you don't want to miss is search engine optimization, SEO. Providing subtitles and transcriptions for movies and audio files, such as podcasts, is a great way to be found when someone searches for content you cover.
Subtitles and transcriptions
Streamio supports subtitles according to the WebVTT standard, which works both mobile phones and desktops. SRT files can be converted automatically and editing can be done directly in Streamio. Subtitles works work with languages that have other character sets. Players have the option to have an attached transcription window.
Keyboard navigation
Full support for keyboard navigation in the video player.
Contrast
The video player is adapted to support the WCAG AAA level of contrast and allows you to adapt this to our own needs with tailored CSS.
Screen readers
The video player is tested against screen readers and the following are recommended:
NVDA 2017+ with latest Chrome on Windows 10+
VoiceOver with latest Safari on macOS 10.12+
TalkBack with latest Chrome for Android
VoiceOver with latest Safari on iOS 12+
Development of accessibility at Streamio
Here are our priority areas for development of accessible video.
Automatic subtitles
Tests are ongoing to integrate automatic subtitles and transcription, we aim to release this functionality in 2021.
Multiple audio tracks
For efficient handling of audio description / spoken subtitles, we are looking at the technical conditions for several audio tracks (which can also be used for several languages, for example)
Multiple video tracks
For sign interpretation, we look at different solutions and have not chosen the path. Transparent video overlays are a way to go, or several synced players, we are also looking at implementing multiple video tracks that you can switch between which would be a flexible and reliable solution.
The market's most affordable video platform
Try Streamio you too and move resources to the budget of video production instead of distribution!
Not a big decision. You can test as long as you want, all features, free of charge (and without credit cards!)
Ways to make video available
Visual interpretation
Visual interpretation shall be made if necessary to ensure that people with limited vision need it to take part in the content. You can also provide corresponding information as text, for example by providing scripts for video recording. . It is possible to plan recordings so that this is not needed, examples of this is to describe any images displayed so that those who do not see them understand the content. One advantage of a good production is that it is also suitable for distribution such as a podcast. If vision recognition is offered, you can best solve this with an additional audio track that the user can easily select in the player.
Subtitles
Subtitles are the most common form of customization that is incredibly important for making film accessible and a requirement in the Web Directive Here you can work with several languages to make content available to other language groups. It is important that the texts also work on other devices such as mobiles.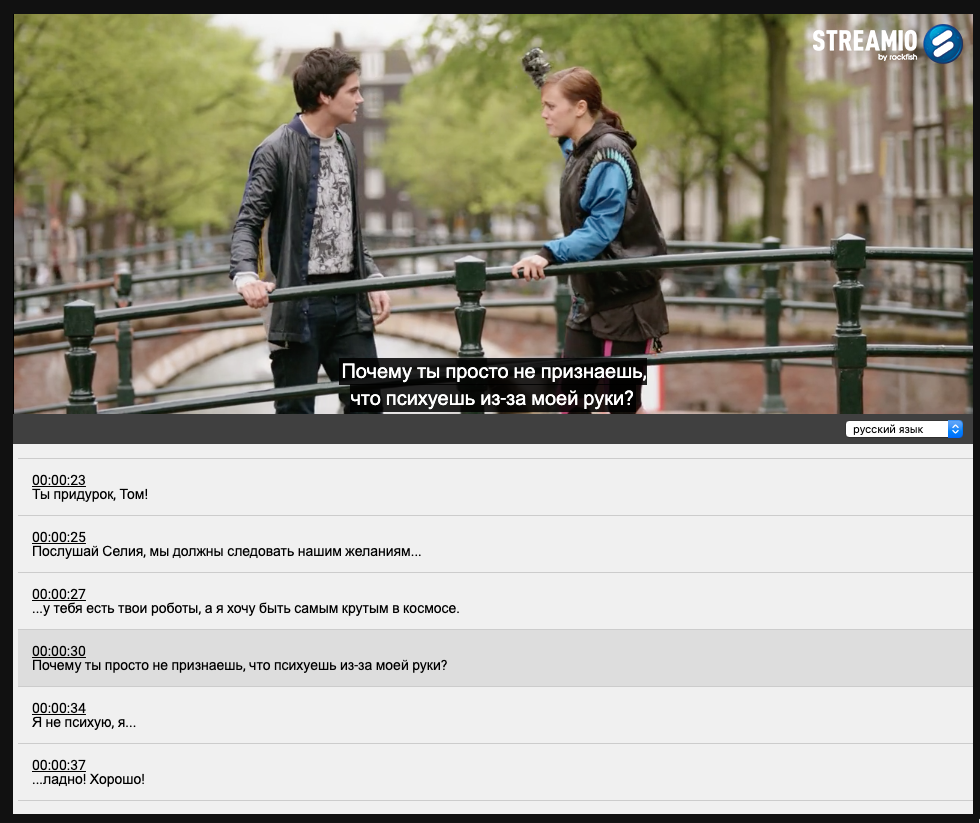 Transcription
Transcription allows you to absorb the information from the film by reading the content at your own pace.
Sign language
The law does not require that you have to have sign language versions of films, but it can still be a need when it comes to important information.
Sign language interpretation is very much a matter of organization, especially in live broadcasts. Having sign language in productions does not necessarily place demands on the platform but can be solved entirely in production, although support in the platform can both facilitate and make the solution more inclusive.
Separate sign language version
The most common thing is to produce two films, one without sign language and one with an image-mixed variant where the character language is included. Image-wise, it is important that you can clearly see face and hands, and high-quality streaming, as well as the resolution (HD quality!), is important. When you see sign interpretation on television, this is the most common solution and something that is created in production.

Another option is to do this, not in production, but as an overlay that the media server can turn off and on, alternatively, that is available as a layer in the media player that can be turned off and off.

Multiple channels
Another way is to provide a video player that can switch between multiple channels, where the user can choose the version of the movie. In this case, two films are produced, one with and the other without sign language – these are then delivered as tracks that the user can choose from.

Synchronized movies
Another option is to work with multiple movies that are synchronized on time. This usually produces two windows, one with the film and one with the character interpreter. Having synced movies makes the function more difficult in different receiving devices, such as mobiles
Learn more about accessibility
If you want to search for more information about available video online, keywords such as accessible technology, web video text tracks, webVTT, WCAG 2.0″, WCAG 2.1 and user interface controls can provide great starting points for more information. The difficulty is to sift and to find the information that is relevant!